Mingo Creek Park Observatory
Star Party Schedule with Map
The Mingo Creek Park Observatory is owned and operated by the AAAP. The Observatory was built in the spring/summer of 2004, and officially dedicated in August of 2005. It has become the largest amateur astronomical observatory in SouthWestern Pennsylvania dedicated to public education and enjoyment of the science of astronomy. The mission of the Mingo Creek Park Observatory is to educate and make freely available to a diverse public of all ages programs on astronomy and the preservation of dark skies. The facility will be the focal point for scheduled public viewing evenings, as well as the recreational and scientific observations of the membership. During Star Parties visitors will be able to view celestial objects through the observatory's two large permanent telescopes, or any of a wide variety of portable telescopes set up on the spacious grounds by members. The observatory has become a popular destination and center of astronomical activities for scout groups, science classes from local schools, and civic groups.




(16" Cassegrain - old)                              (24" RC - new)                              (10" D&G Refractor) 


---
The first images taken thru the 24" RC by AAAP member Fred Klein:
M57 - the Ring Nebula, M13 - the Great Hercules Cluster
---

The AAAP has acquired a school planetarium projector and dome, that has become a popular educational tool for the new Observatory. People attending a starparty can see a short basic planetarium program on the night sky, and then step directly outside and look up (or through a telescope) and see what was just shown to them inside! This is especially useful on cloudy nights, along with the classroom astronomy displays and AV presentations.

(Planetarium) (classroom)



---
The Site in Mingo Creek Park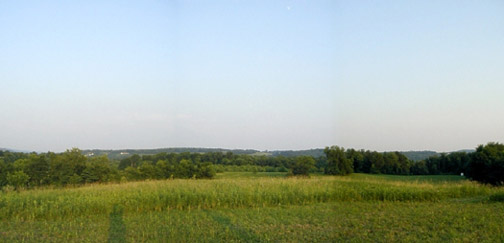 The Mingo Creek Park Observatory hill is located in the northeast corner of Mingo Creek Park, Washington County. The location of the new Observatory is at Shelter 10 in the park, and is ideally suited for an astronomical facility. At 1149ft. elevation it is one of the higher undeveloped points in Washington County. The hill affords an almost 100% view of the sky, and because of its location in a rural country park, still enjoys considerably dark night skies. We also have access to the nearby park pavilion which has electrical and city water supply, and a permanent double restroom facility. Directly below the observatory, there is a large flat grass lawn field suitable for campers. In the woods adjacent to the field is a number of tent camp sites. There is also a amphitheater in the woods with a clear overhead that could be used for 'open air' talks. (this is a boy scout camp area). City water supply is also located in the camping area, but no electricity. Portajohns are provided by the park.



(Pavilion)
(Camping area)
---

Mingo Creek Park (2,600 acres) can be accessed off Route 136, 12 miles east of the City of Washington. This park is a great family facility with picnic shelters, playground areas and ballfields. Mingo Creek meanders through the park and two covered bridges (Ebenezer & Henry) span the creek. Horse enthusiasts can enjoy 15 miles of bridle trails. Bicycle riders and hikers also have designated areas. Annual events at the park include nature walks, hayrides, day camps, needle and yarn workshops, arts and crafts and the popular Covered Bridge Festival. For info on Mingo's covered bridges's visit here and here. Also, this is a newspaper article about Mingo Creek Park click here.


---
Directions to Mingo Creek Park Observatory
N 40.12.659' W 80.01.168'
For a printable PDF file with maps and directions click here.
Another printable PDF file of Mingo Creek Park click here.
For a printable Microsoft Word file with maps and directions click here.



photos on this page by Al Paslow, George Guzik, & Larry McHenry
---

If you would like to see more photos of Mingo Creek Park Observatory, please visit Al Paslow's website.
For construction photos of Mingo Creek Park Observatory, visit the MCPO Archive website.


---
Weather Forecasts
---
Pittsburgh, Pennsylvania

Accuweather

Intellicast

Weather Channel

Weather Underground

KDKA-TV, Channel 2

WPXI-TV, Channel 11

WTAE-TV, Channel 4
---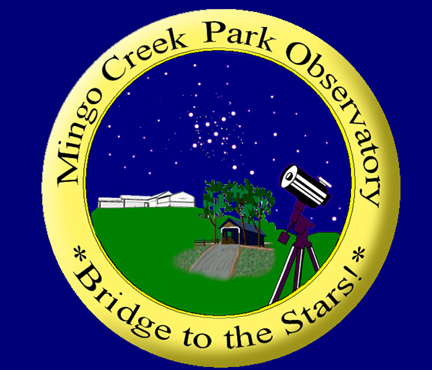 ---