Laurel Highlands Star Cruise 2003
Digital Photo Gallery
---
The difference between 'Night' and 'Day':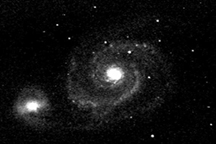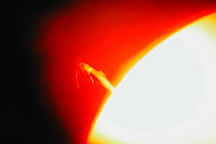 M51 by Bob Kalan
Erruptive prominence by Larry McHenry
---
Comments from 2003 Attendees:

"The kids had a great time."
"My daughter was really excited to find out there was a sketching contest."
"This was my 1st StarCruise, I'm looking forward to coming back next year."
"The staff did a really great job."
"The sky compared to that of Cherry Springs."
"You guys have set the standard high for how to put on a great program
- lots of activiites for all age groups and interests,
- great speakers, nice dark skies, and a well run organization!
- For a group of northerners, you provided a lot of sothern hospitality."
"Extremely well organized, lots of activities."
"The layout of the grounds is excellent!."
"AeroBus was a nice addition to program."
"Great star party, but don't let it grow too big."
"The children's activities were excellent."
"The organization and setup of the star party is outstanding!."
---
Here's a webpage by attendee Jeff Ball, with some great photos from StarCruise!

Here's a webpage by AAAP member Charlie Pritt, photos from StarCruise!
---
ATTENTION AOL Users:

You may have difficulties displaying the photos via the buttons. If so, go to this page for individual hyperlinks to the photos.
---
Photo Galleries:
images by Larry McHenry
---
You may Email us at: lhstarcruise@comcast.net