Laurel Highlands Star Cruise 2000
Digital Photo Gallery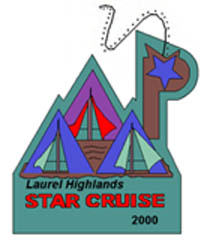 This is a little photo collection of the 2000 AAAP sponsered
   Laurel Highlands Star Cruise convention at the 'Tall Oaks' campground
   located in the Laurel Highland Mountains of Western Pennsylvania.
   While the Cruise was a little on the soggy side Friday night,
   Saturday's sunny day and clear night sky, made the trip worthwhile. 

---
Survey Comments from 2000 Attendees:

   	"Staying on or close to schedule was good"
   	"For year two, it was impressive"
   	"Good mix of speakers"
  	"A bang-up job, pretty complete"
  	"I liked the red filters you distributed for cars"
   	"Great job for 2nd event, hope it grows from here"
  	"Everything was great! I am already looking forward to next year"
  	"It will probably double in size"
  	"I liked the Non-Observer part of the starparty"
  	"Yours was the only starparty that provided activities for children"

---
ATTENTION AOL Users:

You may have difficulties displaying the photos via the buttons. If so, go to this page for individual hyperlinks to the photos.
---
Photo Galleries:
---
Here's a few photos from last year's Bike Cruise
(Courtesy Phil M. Breidenbach) Photo1 Photo2 Photo3
---
Here's a webpage by an attendee from last year, with some great photos from StarCruise!
---
You may Email us at: lhstarcruise@attbi.com